Naked North Korean soldiers demonstrated the power of the country's military in extraordinary ways in front of the president, Kim Jong Un, and his subordinates by smashing bricks, seizing physical objects and other force in a fake video.
The video, which is just over two minutes long, was posted on social media by Martyn Williams, a North Korean journalist. He sent a tweet that the event was broadcast on North Korean national TV.
NORTH AND SOUTH KOREA Restore Communication Between MISSILE FIRST
The videos show flying squirrels and soldiers breaking what looked like concrete tiles with their hands and feet. A soldier is seen running into a set of tires and using his head to crush them.
One is seen taking a lot of beats with what looked like sticks to his non-chested frame and head. Some put large pieces of concrete on their chest as if someone were hitting a large hammer on them.
At the end of the video, a man breaks a set of chains wrapped around him and begins to break two glass bottles and sleep on the charts, much to the delight of the military authorities.
At one point, the video cuts to Kim, 37, clapping and showing interest in the show. The video also shows the remnants of the applause.
North Korea has released similar distribution videos showing the capabilities of the military in the past. Many have caused soldiers to be hit with hard objects and to break things with their heads and hands or to break things on their heads.
The incident comes as Kim vowed Monday to form strong troops to oppose what he sees as hatred from the United States.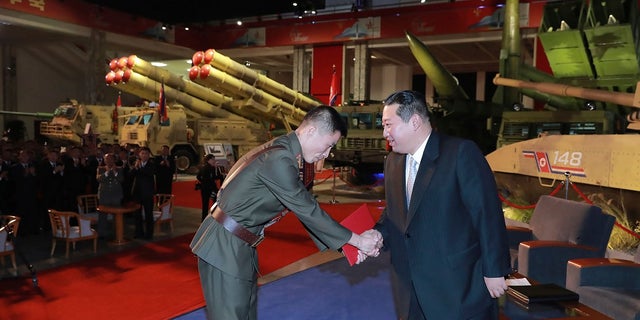 Click here for the FOX NEWS APP
"The U.S. has always shown that it does not hate our country, but there is no evidence to take it to make us believe they do not want it," Kim said on Monday, according to officials at the Central Central News Agency. "The U.S. continues to be a source of tension in the region and its handling and conduct in the wrong way."
The Associated Press contributed to this report.