Chilling radio exchange between pilot crashed in California on Monday and air control announces times of intense fear and apparent instability.
"It looks like you're going astray. Are you fixing it?" traffic control officer is heard asking Dr. Sugata Das, an Arizona cardiologist and pilot.
The air traffic controller then became very clear in his orders to Das.
SAN DIEGO AIRCRAFT ACCOUNT: EARTH DEATH DEATH, INCLUDING CARDIOLOGIST
"Low altitude alert. Get off right away. Get on the plane. Maintain 5,000. Expedite the climb. Get on the plane please."
The pilot continued to urge the pilot to ascend to 5,000 feet as the plane remained at 5,000 feet above sea level.
"You seem to be descending again, sir," the air traffic controller said.
The video was discovered by CUSTOM News in California, and it seems to be compatible with the live streaming process on YouTube. The FAA was unable to comment on the authenticity of the video on YouTube when contacted by Fox News, and announced that the NTSB would release it the following day.
The twin-engine Cessna was en route to San Diego from Yuma, Arizona, but crashed in the Santee area, killing Das and a UPS truck driver who was hit by a plane.
A well-known flight attendant believes Das was confused before the crash, saying the sidewalks show an inexplicably deep plane and climbed before hitting.
"I believe the pilot was completely confused," Robert Katz, a flight instructor, told CBS 8.
SAN DIEGO TRAINING PEOPLE WHO ARE HOMELESS HAVE JUST FINISHED THE ARRIVAL OF THE VEHICLE.
"He doesn't know which way is up and he's close to walking. And so is someone else on this plane, sadly," Katz added.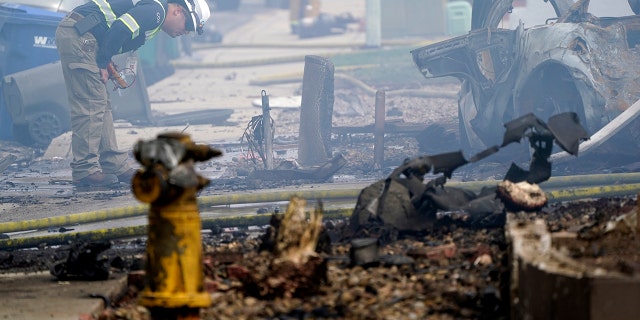 Residents of the San Diego area said the accident left the area looking like a "war zone."
"I can't believe it," said Jim Slaff, the son of a landlord whose property was confiscated, told Fox 5, comparing it with "war zone." "I don't know how you would build it after this. I just sat here thinking about what we need to do to move forward."
A newly renovated home was damaged by an accident.
Click here for the FOX NEWS APP
"They just finished fixing it yesterday," Breana King, sister of one of the newlyweds, said. "It could be different, we're just lucky."
The FAA and NTSB are both investigating the accident.